NEWS
19.6.2017 LAST BOY AVAILABLE - READY TO GO!
The boy has very promising exterior and happy character. Please contact me in case of interest.
28.5.2017 PUPPIES WILL BE 5 WEEKS OLD
Our babies will be 5 week old on sunday. All have lovely silver colour, enjoy theit time in the garden and they are well balanced. It is still possible to book a boy from the litter!!!
Contact me in case of interest.
WE HAVE PUPPIES
We have 7 amazing babies 6 boys and 1 girl. Two last boys are available!
Please contact me in case you want to know more info.
!WEIMARANER PUPPIES IN SPRING 2017!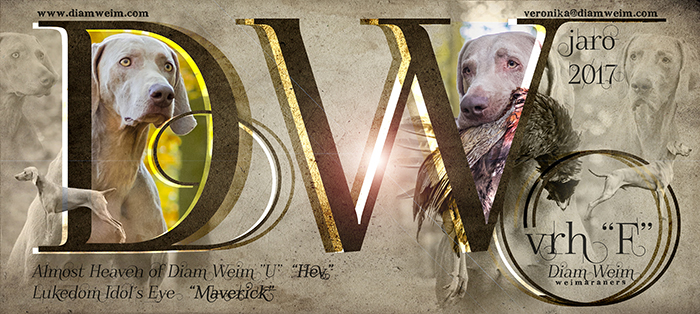 VISIT OF MAVERICK'S OFFSPRINGS
Mav's little daughter born in kennel Řevnické Tornádo, Bella, visited us during the weekend. She is lovely, perspective girl. We did a bit of traning and enjoyed the sunny day. On Sunday Mav's and Vesper's son, Eye of The Tiger aka Enzo, came for his first traning lesson. He is developing into a handsome male, during summer he and his owners will be moving to Lithuania, where he will hopefully participate at shows.
So far all of Mav's offsprings are looking very well in exterior, they have strong bone, very nice heads, nice character and as we can see they are well gifted for hunting. We are so happy of them!
NATIONAL SHOW BRATISLAVA
Last weekend we went to national show in Bratislava with Dio- Dio The Magic boy of DW. He was presented in junior class and got Exc.1st with CAJC, later also The Best Junior in breed and BOS under Jozef Jursa.
We are so far very satisfied with Dio, litter "D" completely fulfilled my expectations. Beside shows he also started with hunting trainins, so we will see how he will do there.
REY IS THE WEIMARANER THE YEAR AND ALSO GROUP WINNER OF FCI VII
Last years show season was extremely successfull for Rey - BISS BIS rWW Atrey Forever Hero of DiamWeim, who again became THE MOST SUCCESSFUL WEIMARANER OF 2016 and this time he also added very precious victory in FCI group VII and became THE MOST SUCCESSFUL POINTING DOG IN TOP DOG competition in Czech Repubic for 2016! It is fabulous result and well deserved finnish of his show career, of which many can only dream. Titles that Rey and Mirek reached together is phenomenal. Also because they reached the top titles and competitions both at shows and hunting tests as well. These make Rey already a living legend. When I gave name FOREVER HERO to the puppy, that was given a red bow, I had no idea how significatnt the name will be. Rey is absolutely the most successful dog and the biggest personality in my breeding and I am glad I entrusted him to his owner Mirek and they made so much together!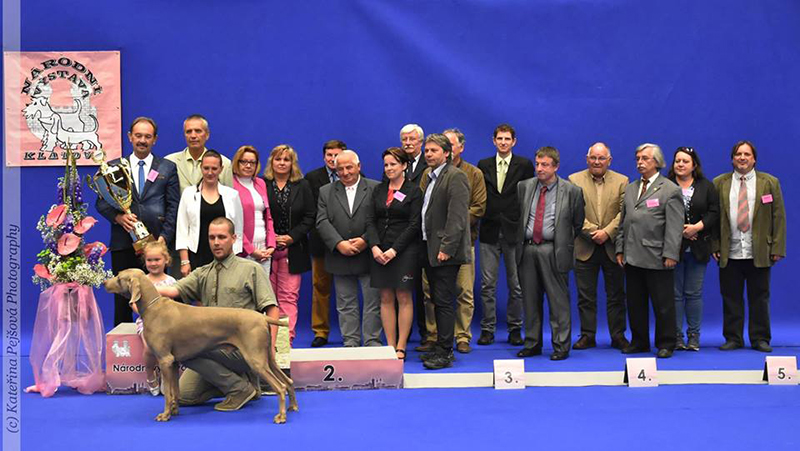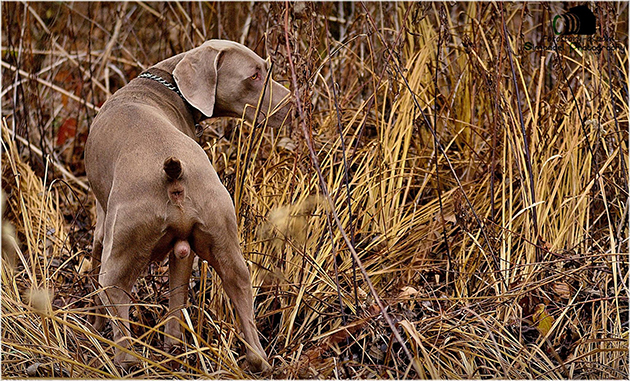 DIO THE MAGIC BOY of DIAMWEIM -"DIO"
On Saturday 7th January 2017 we went to national show in Brno.
DIO, son of our Maverick and Heaven, was shown in junior class and in competition of 4 dogs got Exc.1st and CAJC. His jurney towards Czech Junior Champion begun. It is his second Junior champion point, as he also did well in polish Walzbrych, where he begun Polish Junior Champion with CAJC title. Dio grown up into very handsome dog with great character. We are happy and proud of him!
PUPPIES SIRED BY MAVERICK
In kennel Revnicke tornado eight puppies were born - 5 boys and 3 girls - in the beginning of November. We went to check on them and they are truly marvelous. Agatha and Mav did great job!
So far Maverick sired 4 litters in Czech Republic. All of his puppies look very promissing in exterior, they have nice heads, strong bone, nice colour and good character. Some of them have already nice show results and make happy not only their owners but us as well! We are looking forward to see more of his offsprings :).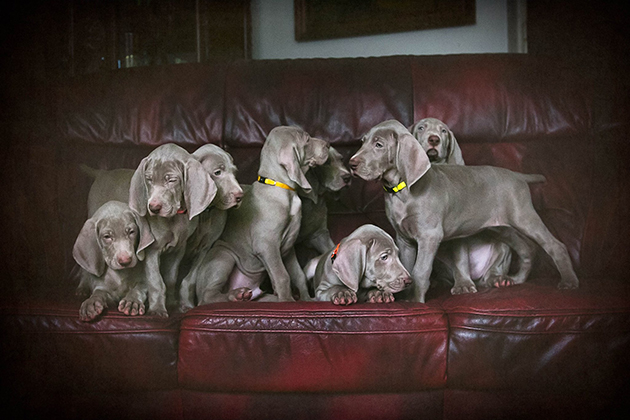 ALL OF OUR "E" PUPPIES HAVE THEIR NEW HOMES
This time we were very lucky with owners of our babies. All of them are amazing people and we are already looking forward to meet them at training lessons or toher events :). I hope our little diamonds will bring you only joy.
For those of you, who are thinking about having a puppy of Diam Weim, we have a great news! For spring 2017 we plan a litter by our outstanding Heaven - more info coming soon!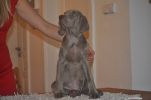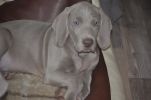 Eli, Eli, Elliot, Elliot, Everret
4.1.2017 !ONE BEAUTIFUL BOY IS AVAILABLE!
One boy of an outstanding exterior and lovely character is available. He is show quality also good for work and as a family companion.
Contact me in case of interest.
16.12.2016 PUPPIES ARE 5 WEEKS OLD AND GROWING UP VERY WELL
Our litter "E" in now 5 weeks old. Puppies are exploring the big world outside their whelping box and they are vely lively.
ONE LAST BOY OF AN OUTSTANDING EXTERIOR IS STILL AVAILABLE!
Do not hesitate to contact us.
11.11.2016 WEIMARANER PUPPIES WERE BORN!!!
Litter "E" was born 11th November. Vesper gave birth to 9 puppies - 5 boys and 4 girls. All puppies are doing fine and grow up well. Vesper is grear mum.
Last two boys are available from the litter! Contact me in case you are interested.
10.10.2016 WEIMARANER PUPPIES ARE ON THE WAY
Our litter E is going to be born in the first week of November 2016.
More on site weimaraner puppies.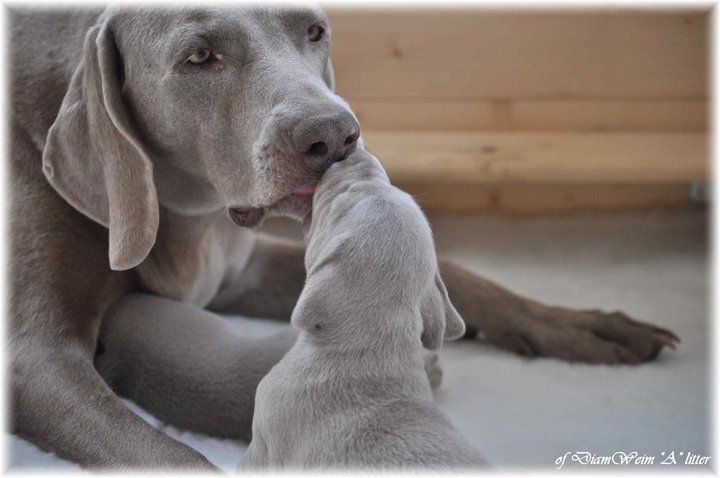 29.8.2016 WE ARE PLANNING LITTER E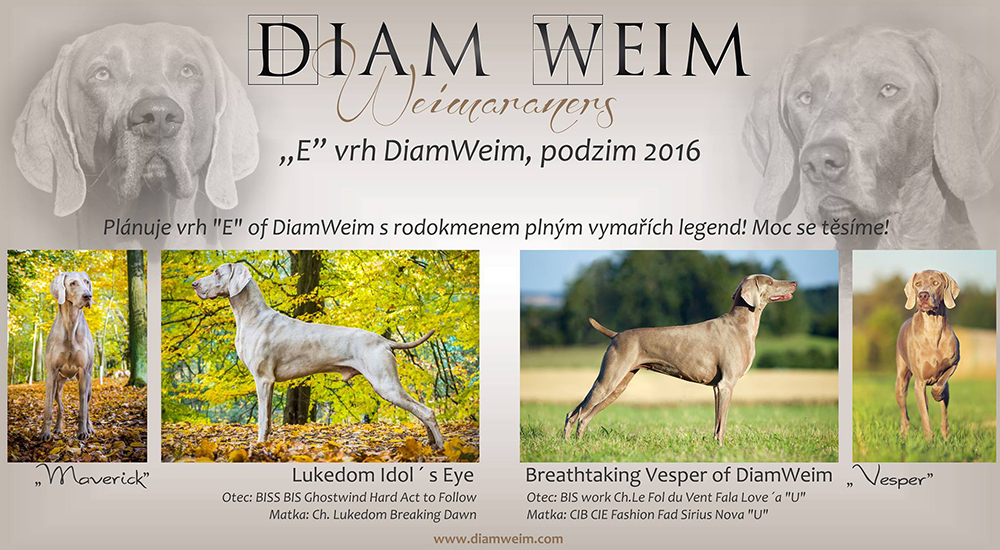 MEMORIAL OF ROBERT JAKOUBEK, TŘEBOŇ
INTERNATIONAL all round HUNTING TESTS FOR POINTERS (CACIT, CACT)
Extended weekend 5-7.8.2016 we spent in Třeboň, where we participated together with our Heaven at international all round hunting tests with obtaining titles CACIT and CACT, organised by KCHVO, by occasion of club's 50 years anniversary. This hunting test is top competition, which is held once in 5 years.
Also Angie RoyalSplendour of DW was entered and under #19 also Atrey Forever Hero of DW. Rey successfully passed the tests, Angie unfortunately was not that lucky.
I have to say that whole event was very nice surprise for me - the way it was judged, surroundings, terrains and overall atmosphere.
22 dogs were presented and 10 out of them were from abroad.
Draw #22 for us ment our first discipline will be in forest.
Heaven did full score in forest except one. On Saturday we went first on "small" field, followed by water works and our tests were finished with "big" field. We managed the "small" field in full score, but due to lower rating in reed and promptness into water we ended up with 2nd merit. Heaven did great job in "big" field, even though it was her last discipline after two very exhausting days, so we could hear words of praise from judges. Thank you very much!!
Over all a lot of dogs were rated zero in "big" field - mostly from stillness, or got lower ratings that put them in the end to 3rd merit.
Only 12 dogs finished MJR, and only one of them in 1st merit - the winner Milan Kazda with Pepo, 4 dogs with 2nd merit and 7 dogs in 3rd merit. I can not remember all round test, where only one dog got 1st merit for very long time. It is also a proof of high severity of the tests. Heaven was 4th in total ranking with 2nd merit and 463 points. We hoped to finish the tests and 4th place is absolutely fantastic result! Heaven in her 5 years finished her hunting tests career with great success and honour. Also she went through the whole tests nearly without any previous training. Five years ago her mum Fergie was supposed to go through the tests, unfortunately we didn't get through vet control. Our joy of Heavens result is even bigger then!
Rey and Mirek finished in 3rd merit, but they did manage to finish! It was indeed amazing weekend. Congratulations to all successful!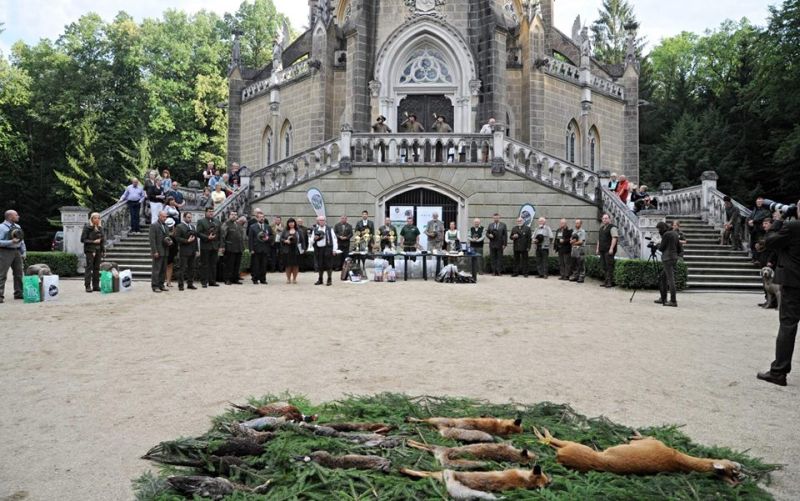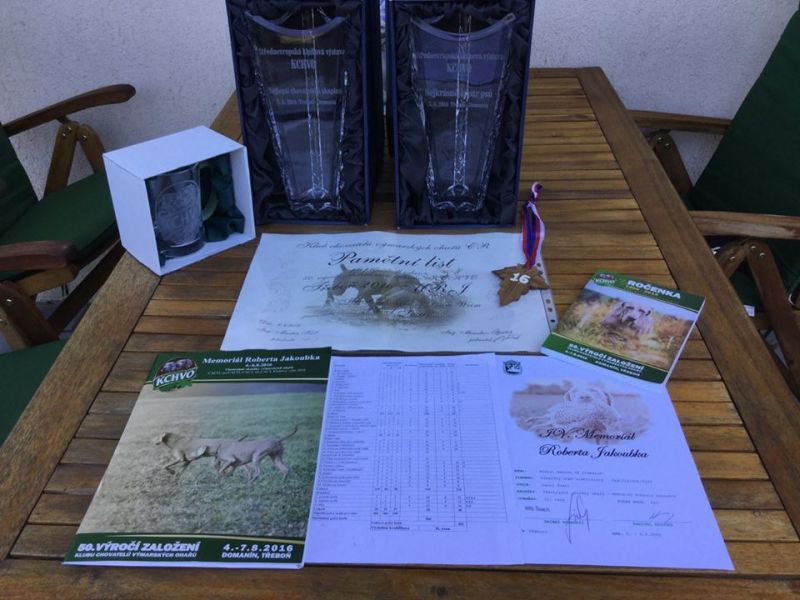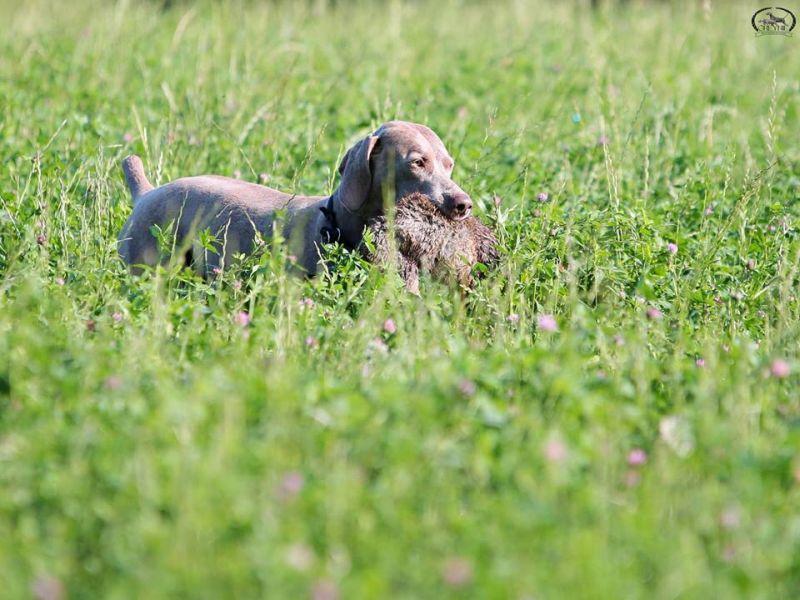 Heaven



Heaven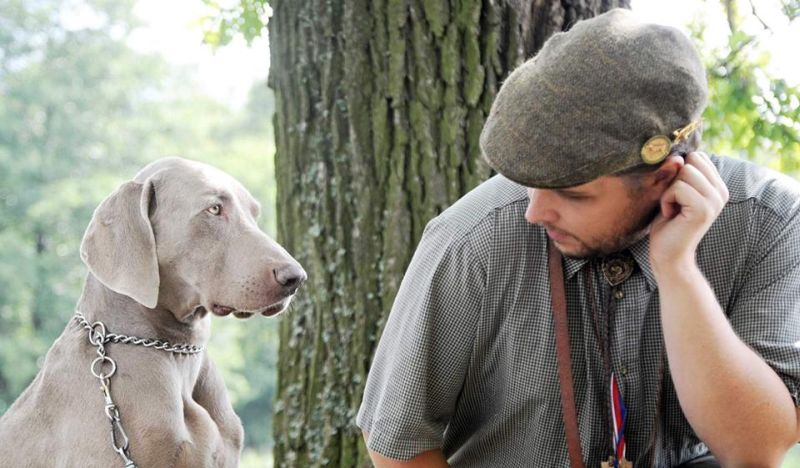 Atrey Forever Hero of DW


MIDDLE-EUROPEAN CLUB SHOW TŘEBOŇ
On Sunday celebrations of Club's 50 anniversary followed by Middle-European Club show.
DiamWeim was presented by:
Males, puppy cl.: Dio The Magic Boy of DW - VP2
Males, winners cl.: Atrey Forever Hero of DW - Exc.4/6
Females, winners cl.: Angie Royal Spledour of DW - Exc.1, CAC
Females, winners cl.: Almost Heaven of DW - VG

Our Heaven finished her show career with her very first and also last "vegy good". She doesn't have white teeth, enough coat on her belly and she has masculine head. So said the judge, german breeding advisor for weimaraners.
We had brace and breeding group entered for the finals. We won both. Heaven and Rey got THE BEST BRACE title for several time. I was very happy, it was their last win together.
I also appreciate title THE BEST BREEDING GROUP and thanks to judge MVDr.Šimek for all evaluations, given to Rey and Heaven during their show career. We appreciate every single one of them!!

The Best breeding group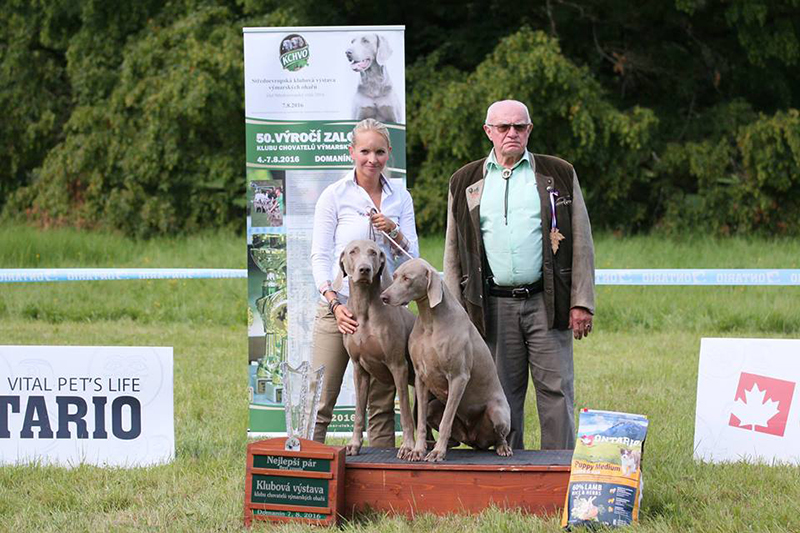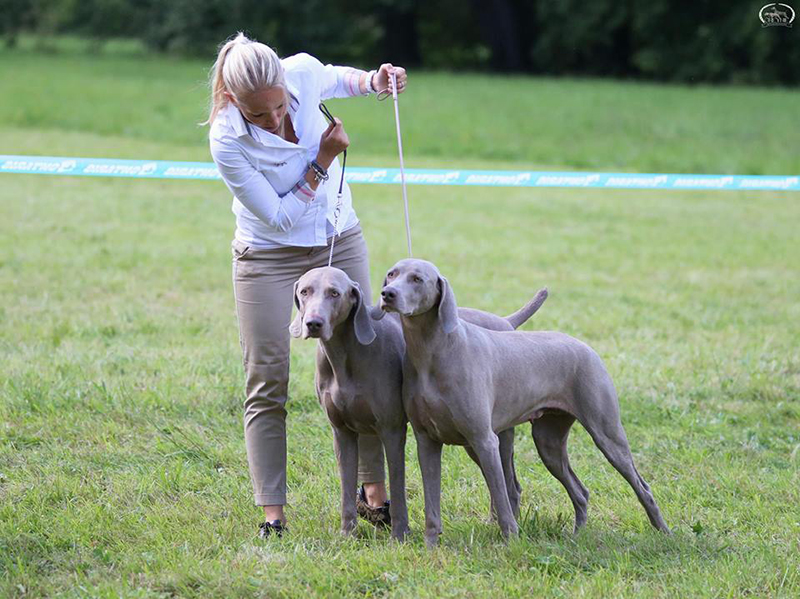 The best brace in show



Atrey Forever Hero of DW
BEAUTIFUL PUPPIES SIRED BY MAVERICK
Seven wonderful puppies (4 boys and 3 girls) were born 25th June in kennel Dreiborn Rock. We saw the litter last week personally and I have to admit it really is exceptional quality litter and very well balanced. One strong silver boy is still available. In case you are interested, please contact the breeder Petra Rejholdova, www.dreibornrock.cz.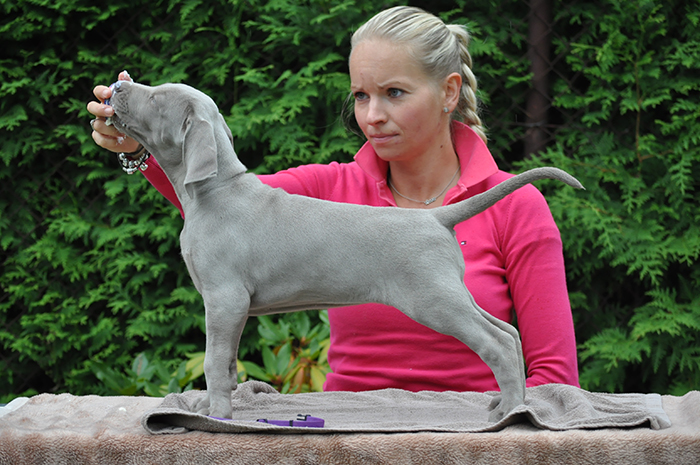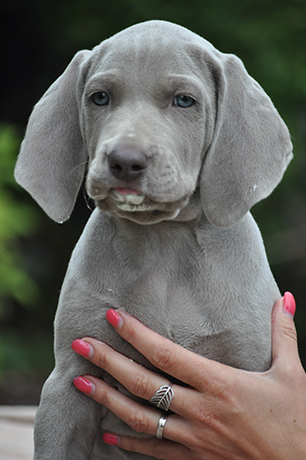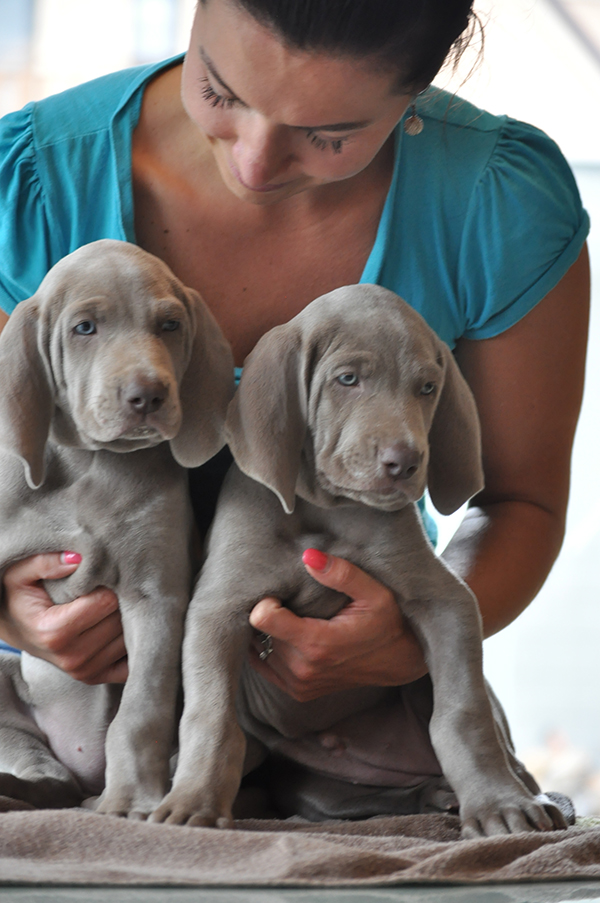 31.7.2016 OUR DIAM WEIM "D" PUPS ARE OVER 6 MONTHS
Puppies from out last litter by Heaven and Maverick are developing very well and they are over half year old now. I am very happy we see some of them quite often. I can see that so far the litter fills up all my expectations. Laylee – Destiny´s Child of DW was with us for 3 weeks holiday and we enjoyed her very much. Her bro Dio as also like at home with us and we slowly start hunting training with him.
We are looking forward to our next puppies!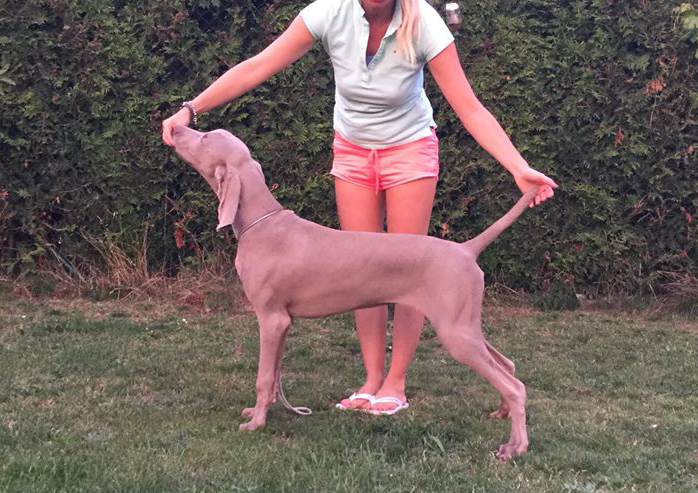 Destiny's Child, 6 months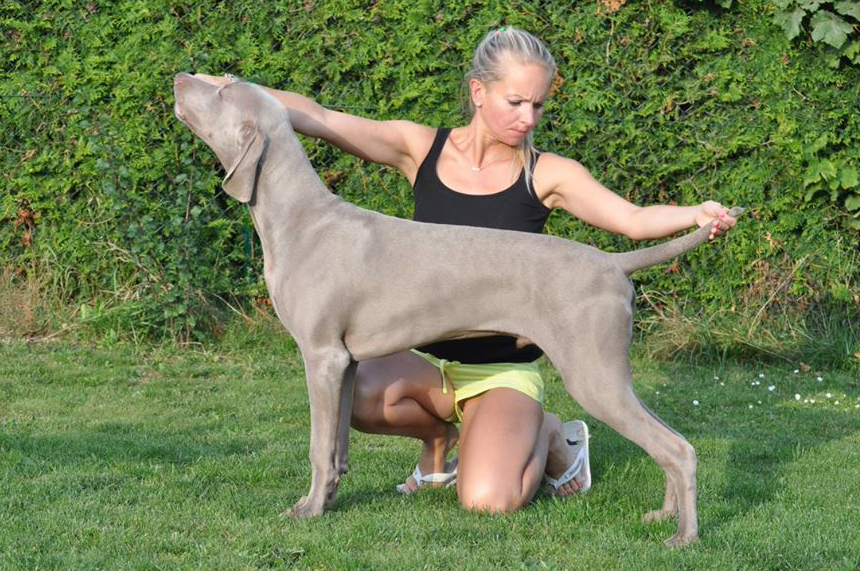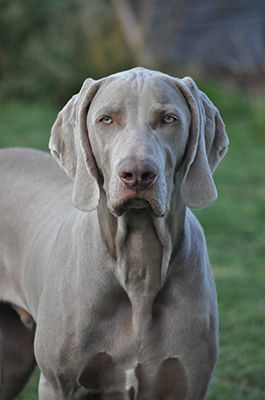 Dio, 6 months
18.6.2016 INTERCANIS BRNO
Our Heaven was shown for the first time after her motherly duties. Also Dio – Dio The Magic Boy of Diam Weim, puppy from our last litter by Heaven and Maverick, was entered.
Dio was in puppy class, where he took very promising 1st among three puppies under Fr. Šimek.
Rey was shown in honour class, where he took 1st place and later in final competitions also BIS of honour classes!
Heaven took Exc.1/2, CAC and r.CACIB from champion class.
In final competitions together with brother Rey they took the highest title in braces competition – THE BEST BRACE OF INTERNATIONAL SHOW! It was succesful Saturday.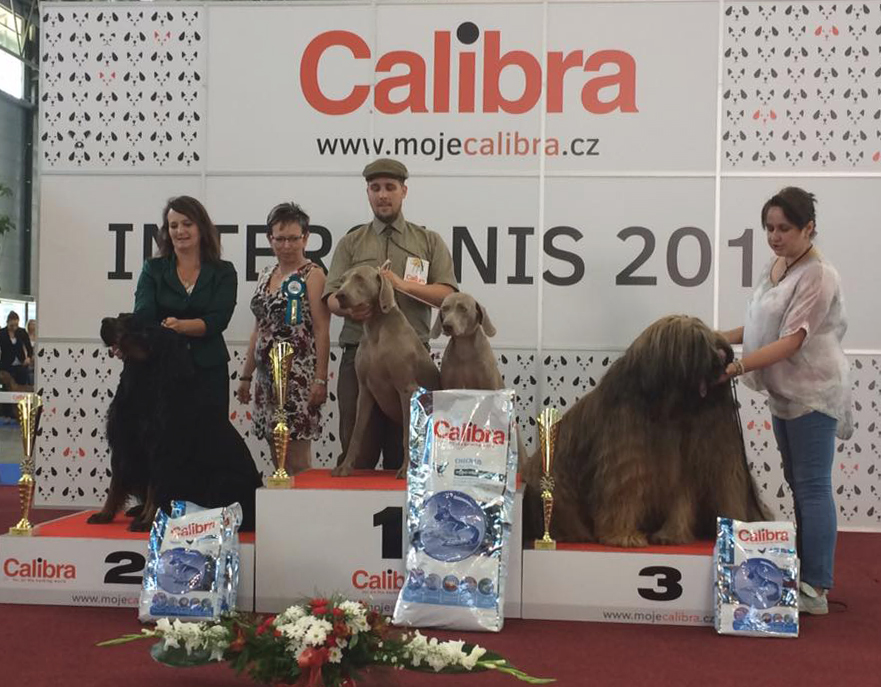 11.6.2016 REY – ATREY FOREVER HERO OF DIAM WEIM – BEST IN SHOW
NATIONAL SHOW KLATOVY!
Last weekend was again unbelievable! On Saturday and Sunday two international shows were hold in slovak Nitra. Diam Weim was represented by Lolla, who took Exc.1 CAC and res.CACIB from champion class on Saturday and met all conditions to become Slovak champion of beauty. On Sunday she added Exc.1 CAC and therefore made first steps towards slovak Grand champion. Huge congratulation!
Also czech dog show world didn't stay behind and national dog show was held in Klatovy. Rey was shown on Satuday in champion class and under judge Lenka Fialova took Exc.1, CAC, National winner and BOB! In final competitions Rey became Best in group winner under judge Miloslav Václavík. The title qualified Rey to return to show ring later, when it was time to decide about the best dog of the day. BEST OF DAY competition was judged by Mrs. Iveta Nováková and she picked up Rey as BEST DOG OF THE DAY from all FCI groups! Winner of Saturday's show was again our breeding Rey. Mirek and his family had to extend their stay in west Bohemia til Sunday and wait for Best in show competition. Rey took the highest title - BEST IN SHOW - under judge M.Václavík. It is already second BIS for Mirek and Rey. It is a huge success and victory, to which leads a long way. We are very proud breeders in these moments of big wins. I am glad that Rey and Mirek stay on top among weimaraners for so long and I cross my fingers for them to stay further. They are marvelous couple.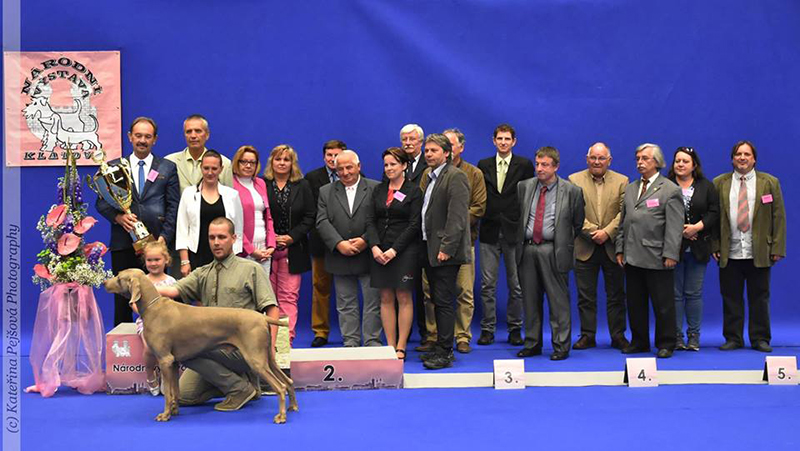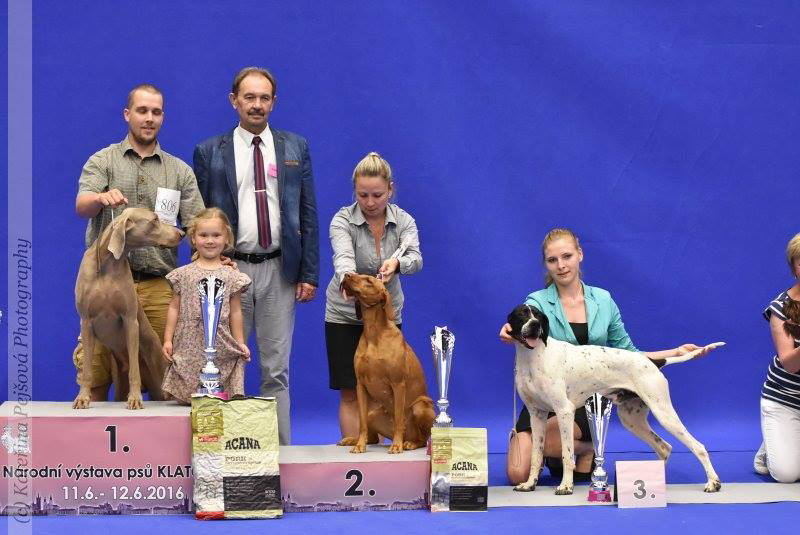 MAVERICK IS GOING TO BE FATHER AGAIN
We are happy to announce that Maverick's beautiful bride Daphne Shefis aka Frida is pregnant. Puppies are expected in kennel Dreiborn Rock very soon. Please contact Petra Rejholdová in case of interest.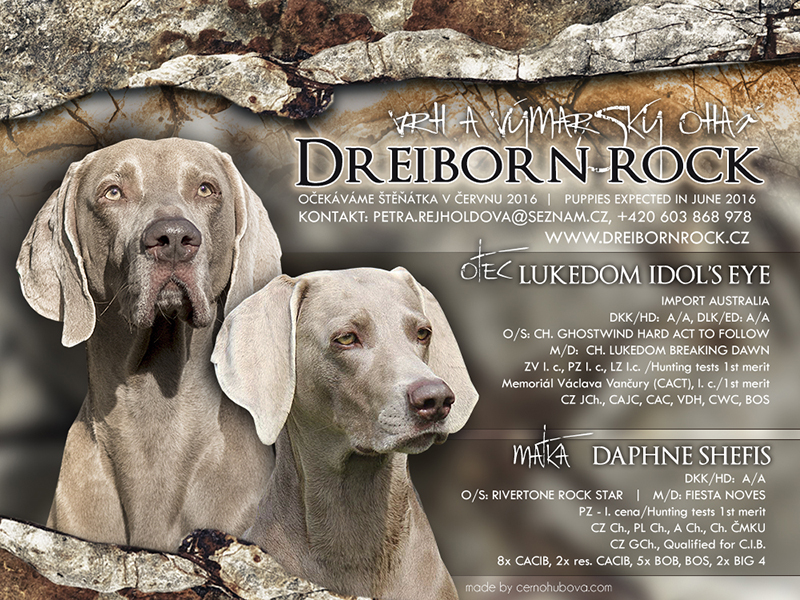 27.5. 2016 – SUCCESSFUL SATURDAY FOR DIAM WEIM BREEDINGS
We had very successful Saturday at shows and huntings test. Together with our Vesper I took a part at hunting tests with obtaining CACT, organised by Club of shorthaired pointer. Vesper successfully passed the tests in 1st merit and 4th place with 273p./300 and full score for nose (4 points). Also Lolla was entered and ended up on 2nd place with 282 points. Both Vesper and Lolla met the last condition to become BROOD BITCHES!
REY represented us at International show in Klatovy, where he took Exc.1 CAC, National winner and BOS under judge P.Buba in champion class.
"D" PUPPIES WILL BE 3 MONTHS
Our last puppies by Heaven and Maverick are at their new homes. I am happy they are all in good hands.
All the puppies have very lovely nature and promising exterior. I am happy we can see some of them from time to time.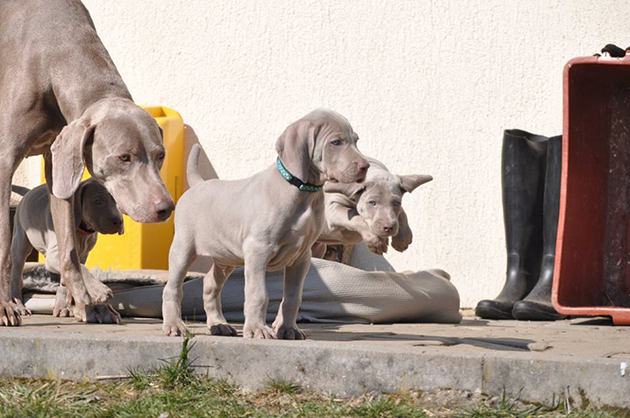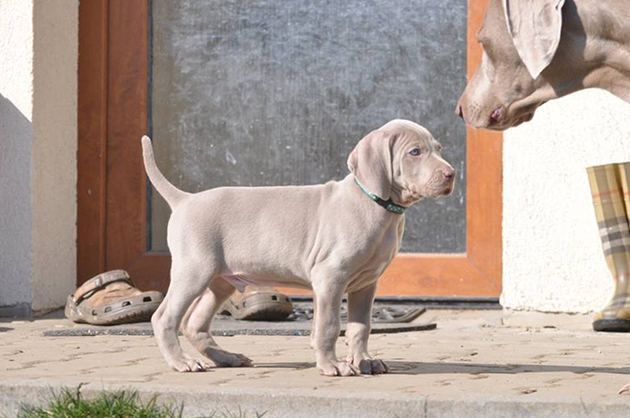 Dio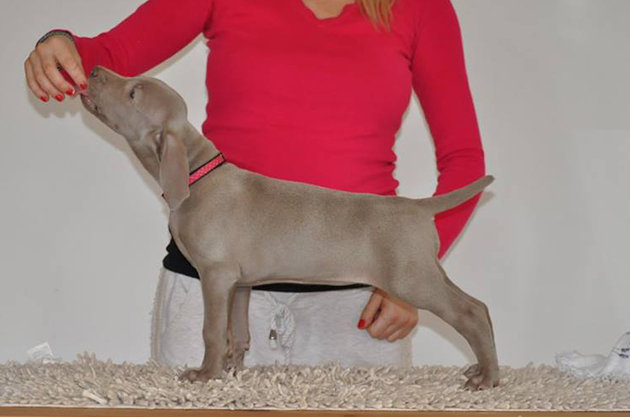 Mia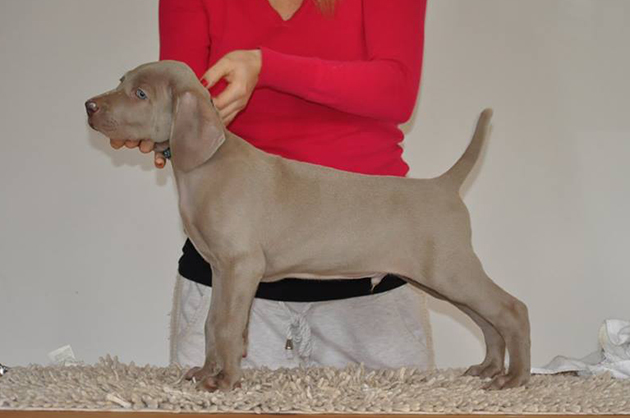 Dio

BISS BIS R.WW 13 ATREY FOREVER HERO OF DIAMWEIM "U"
We are over the moon, that our star REY is again qualified for nomination competition for R.Knoll Memorial due to his results from all round tests! I cross all fingers for them to successfully pass nominations and make it to R.Knoll Memorial! Good luck, on 7th May we will be thinking of you!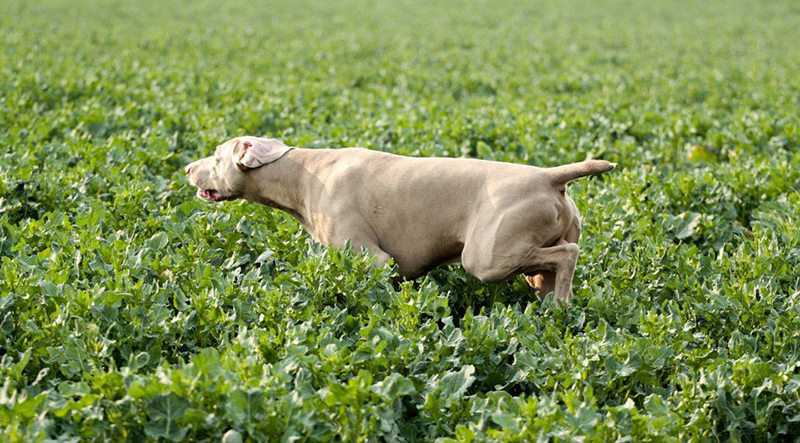 INERNATIONAL SHOW ČESKÉ BUDĚJOVICE 23.4.2016
Judge: Lenka Fialová (ČR)
Last weekend belonged to shows again. Rey and Angie represented us. Angie took Exc.1, CAC, CACIB, BOS from champion class and Rey became BOB for the third time in row. He also added 4th place in FCI group VII in numerous competition. So far this year Rey always took not only BOB but always got very nice placements in group among other pointing dogs. Congratulations and I am looking forward to this years show season.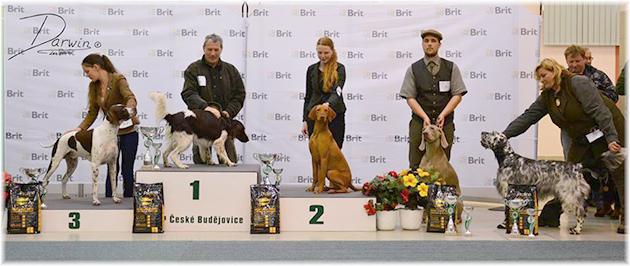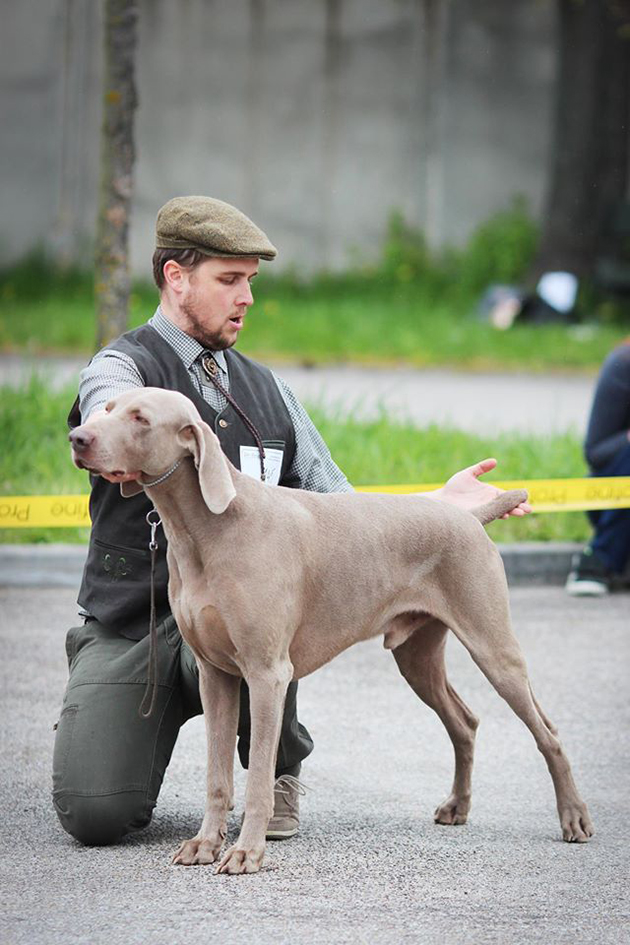 NATIONAL SHOW OSTRAVA 9.4.2016
Judge: Vlado Piskay (SK)
The first weekend in April two our breedings,Lolla and Rey, were shown in Ostrava. Both did very well. Lolla was in working class, where she took Exc.1 CAC and became CZECH CHAMPION. Congratulation, girls!
Rey with Mirek were in champion class, where they took Exc.1, CAC, National winner, BOB, and r.BIG!!! Huge congratulations!
PUPPIES ARE THREE WEEKS
Time flies and our "D" Diam Weim pups are three weeks old. All grow very well and Heaven takes good care of them. First deworming treatment and extra feeding is behind them. And they do have an appetite!
Soon we will put more info, photos and their names on our site.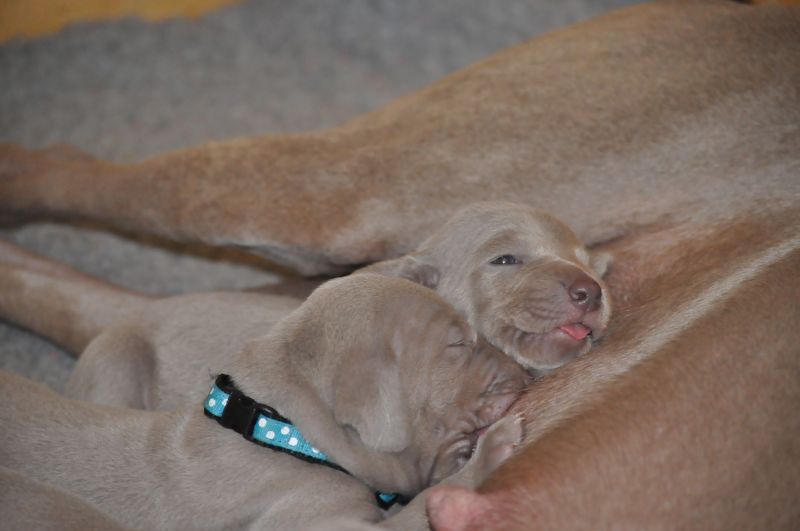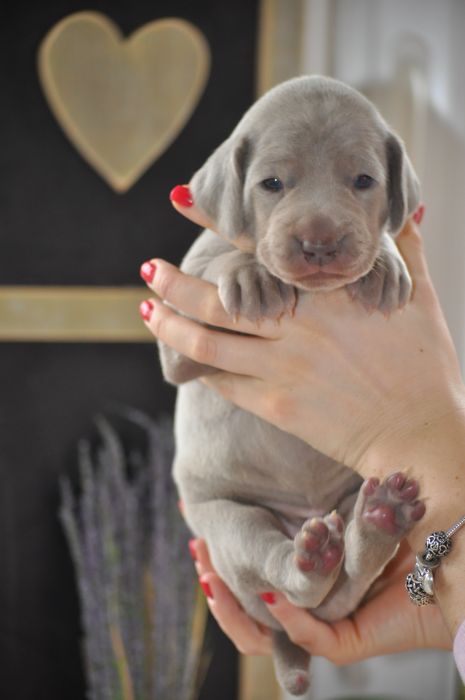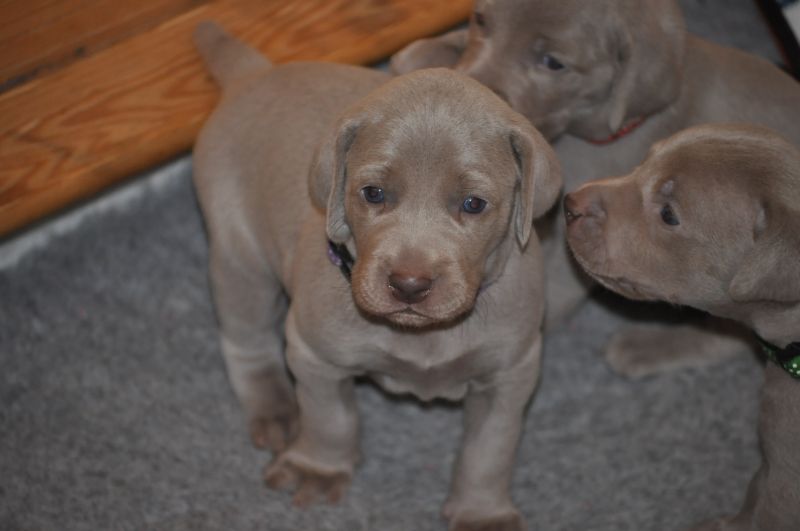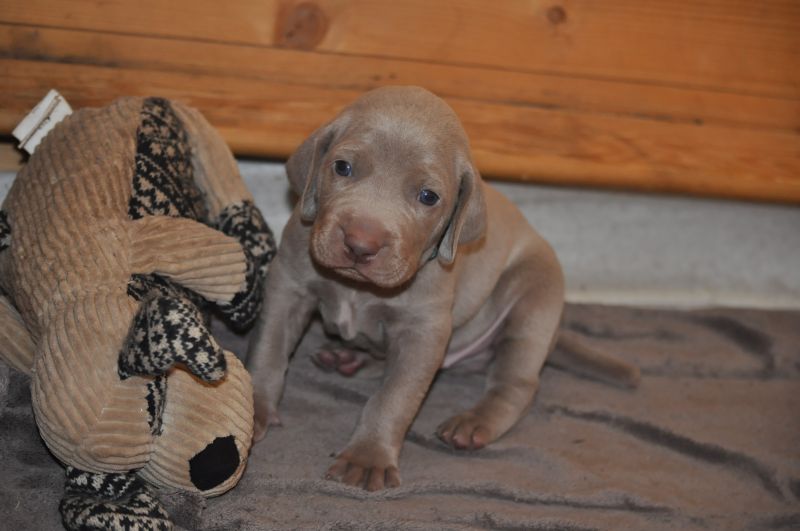 16.2.2016 ONE YEAR OF "C" OF DIAM WEIM
16th February Colby The Fighter of DiamWeim celebrated his 1st year. Colby is enjoying his life with his mum Amber and grew up into huge boy. All the best, Colby!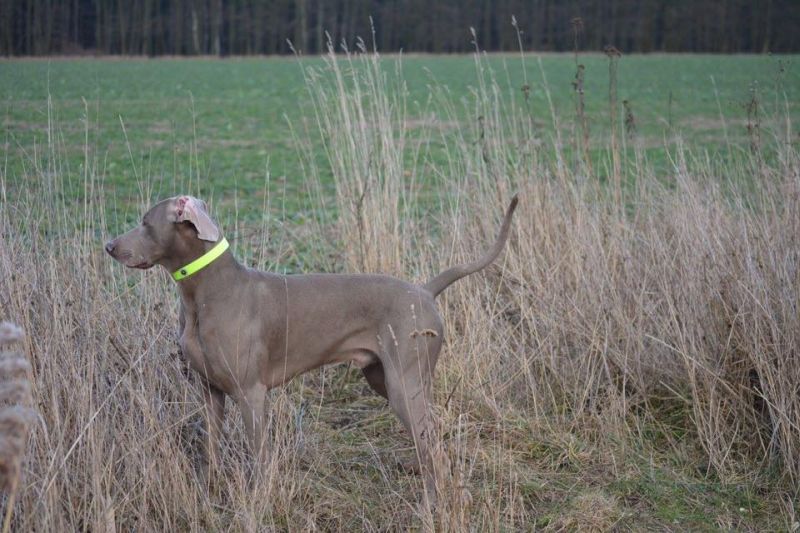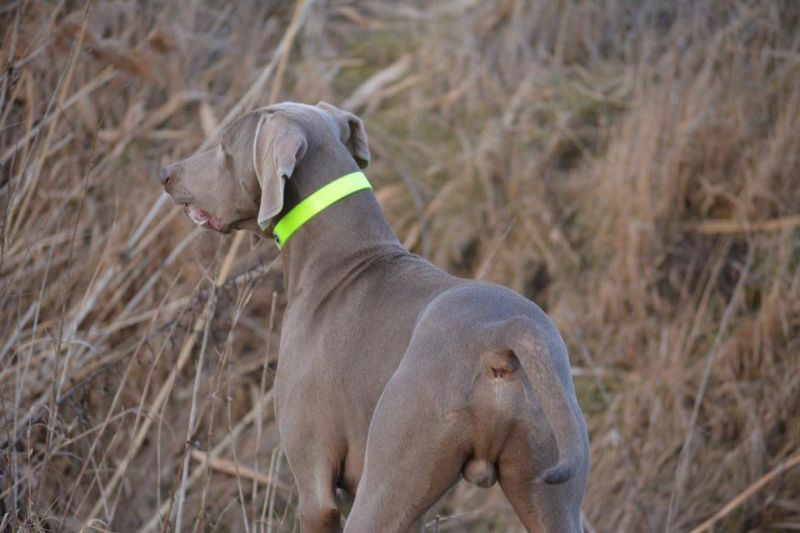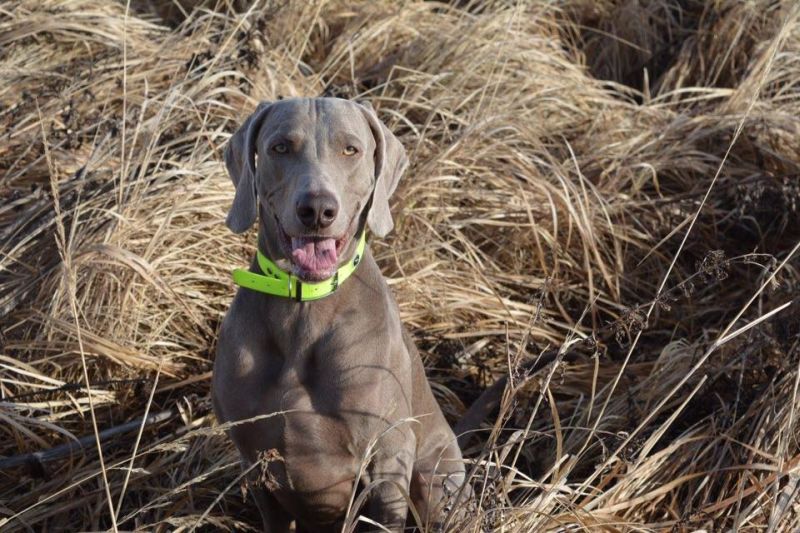 8.2.2016 WELCOME ON OUR NEW WEBSITE
I am happy to welcome you on our new site. We hope you like it and you will find all info you need.
Your Diam Weim team
WE HAVE PUPPIES - LITTER "D" WAS BORN
31st Januray 2016 our longtime awaited litter "D" was born. Heaven and pups are doing fine. More info in "Puppies".
All the puppies are booked already. In case you are interested in a puppy from our kennel, we plan another interesting litter for spring 2017. Contact me if you want to know more.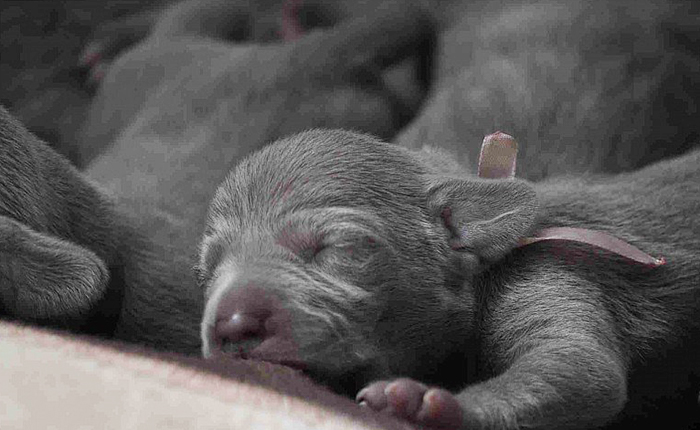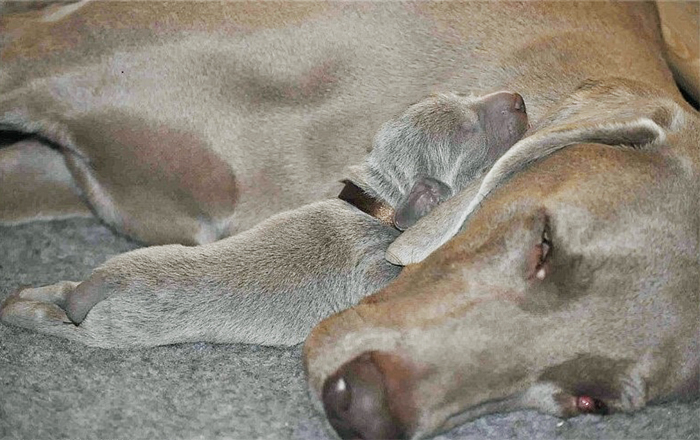 CHAMPION OF CHAMPIONS 2015 – TOP HOTEL Praha
Last weekend in January nice show is held each year in Top Hotel Praha - Champion of Champions competition, we take a part at it each year. This year we had three dogs entered - Rey – Atrey Forever Hero of DiamWeim, Loola - Born to be my Lolla of DiamWeim and Angie – Angie Royal Splendour of DiamWeim. All of them shined in the ring, but it is a hard work to beat "the king" Rey. In the end Rey became BOB out of 7 entered weimaraner champions. In the afternoon gala competition he was placed as 3rd Best in group in strong competition. Rey managed to do so for the third time in row!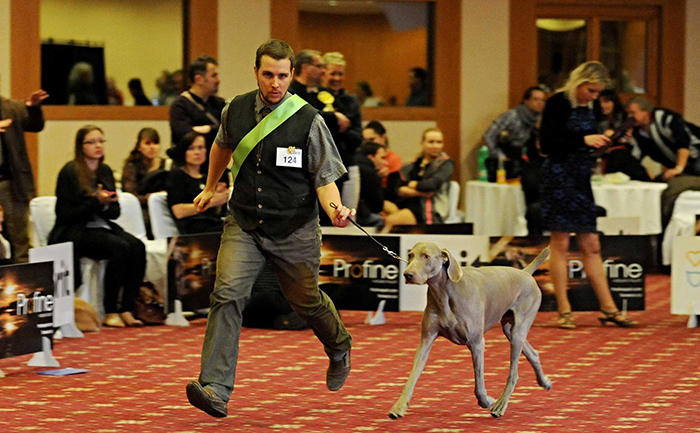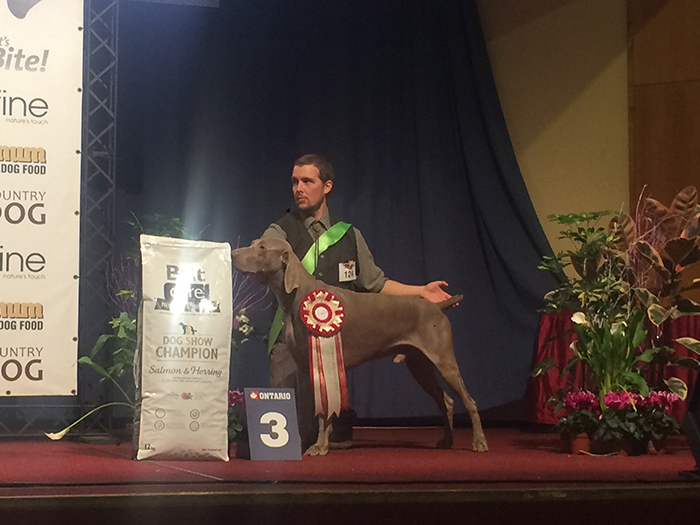 NATIONAL SHOW BRNO 9.1.2016
The very first show of the year was as spectacular as it could be due to Rey's great performance.
Dogs winners class, judge V. Piskay (SK) – 44 weimaraners entered
ATREY FOREVER HERO OF DIAMWEIM – Exc.1/4, CAC, National winner, BOB, BIG 1 – winner of FCI group VII.
Rey proved he is not out of great shape after his long show break and took the highest place. Congratulations, Mirek!