WEIMARANER PUPPIES
Litter "F" was born 23rd April. It is a repeated combination of Maverick and Heaven. In czech breeding we are allowed to do only twice the same combination and this is the last chance for you to have a puppy by these parents. All puppies have silver colour, strong bones and well shaped heads. Last boy is available!
Their previous litter D was of an oustanding quality and that is why we decided to repeat the same combination. Mum Heaven is extraordinary in many aspects. Her personality is so huge, that we sre saying she is not a dog. She is one of the most successful bitches at shows ever. During work she is devoted to her master and you can always relay on her at hunting tests. She has very calm and ballanced character, loves children and nothing makes her out of her mind.
Maverick produces himself very well on his chldren, he shows huge potencial as all puppies sired by him are looking very well in exterior. They have lovely shaped heads, strong bone and in general they are looking very well. They also show good hunting skills and calm character.
We expect puppies of outstanding quality in exterior, lovely silver coulour, strong bone, excellent working talent and ballanced character. In case you are interested in our litter "F", please contact me. We are accepting only few more reservations!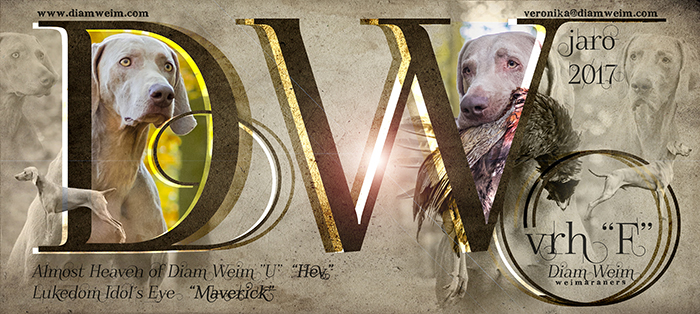 Our goal is to breed dogs in high quality not in high quantity with love and all the care, we give them while they are with us. Each litter is carefully planned in advance. I have very high standard for stud males I choose for our bitches. I always do my best to put together flawless exterior, health, great hunting talents, balanced character and interesting blood lines, that could be a benefit for czech breeding of weimaraners. Even though it seems there is plenty of stud males, to find the one that meets all my criteria is not easy. I put a lot of time and effort in order to find the right stud, but when I look at our previous litters I can see it is 100% worth it. My breedings belong to show and hunting top and I intent to keep the high standard, which was set already with my first litter.

Our puppies are bred in family circle. They have the best care available since they are born until they leave with their future owners. We do our best for the socialisation. They are part of our household, used to people, children and other dogs. Puppies are ready to go in age of 8 weeks, vaccinated, dewormed, with Euro passport, chipped, with dry food and authentic present :-).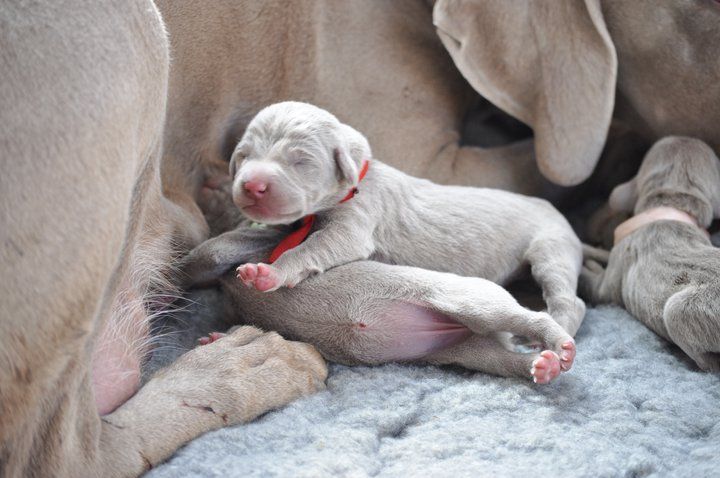 We want to meet each possible future owner personally before we give him our little Diamond. It is necessary to come for personal visit to our place, it is also opportunity for you to meet both parents or at least mother of your future puppy.
My priority when choosing the future homes for my puppies is to choose home, where our puppy will live happily and will be loved. I will be very glad if some of them will get to an owner, who will lead them as show dogs, hunting dogs and in the future possibly as brood bitch or stud male so they will have a chance to prove themselves in the breeding.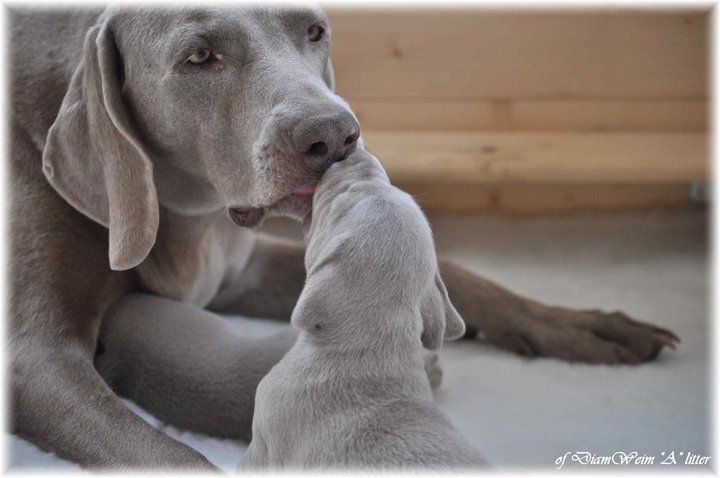 When you take your puppy from us the whole thing does not finish for us, but begins. If you choose a puppy from our kennel, you are also having a breeders service from us, which is available for you anytime you need. We can also offer help for training, shows, advising with nutrition, upbringing and anything else you need. We are here for you. :-)

If you finished reading the whole article on our site, it means you are seriously thinking about buying an amazing creature, buddy and the most devoted friend - weimaraner. From my own experience I can say that your life will never by the same once you have one. Weimaraner is wonderful breed, who will charm everyone because of many reasons. For its special colour, beauty, nobility, for some one it will be its intelligence, temperament for others its hunting talent, devotion and great character and for some all of it together like me. If you choose weimaraner puppy, many wonderful years by its side will follow. Enjoy them from the very first moment, since you have it home :-)
In case you are interested in anything alse, or you would like to talk about something before you will buy your weimaraner, write me or call. I will be looking forward.